Climate change, clean energy and sustainability are key priorities for BSA members, and we have seen many organisations from all sectors commit to Net Zero carbon by 2050 at the latest – following government's lead – and to play their part in tackling the effects of climate change. For BSA members, actions towards Net Zero are two-fold: as well as reducing the environmental impact of their own organisations, many members deliver services to private and public sector organisations to help them become more energy efficient and act more sustainably.
Our industry has a vital role to play in ensuring that the UK meets its Net Zero commitments through unlocking innovation, offering its expertise and resources in partnership with central, devolved and local government as well as business and VCSE organisations, and driving investment in green skills and industries. Members are key to ensuring that investment in our green economy is spent as efficiently as possible, thereby driving our economic recovery, supporting jobs and local businesses across the country, adding social value, and delivering services and infrastructure of the highest quality to the British public.
The case studies on this page are designed to highlight the work of BSA members both in terms of greening their own organisations and supply chains, as well as supporting central, devolved, and local government as we look towards the long-term goal of achieving Net Zero by 2050. The case studies fall under five interconnected categories:
1. Working with central government and greening the public estate
2. Working with devolved and local governments and administrations
3. Members' own Net Zero commitments over and above 2050 commitments
4. Supporting SMEs in the supply chain to transition towards Net Zero
5. Working with other private sector / VCSE organisations
Working with Central Government and Greening the Public Estate
Central Government and the wider public sector have a vital role to play in the transition to Net Zero. It must lead by example both by ensuring that Net Zero is reflected in its structures and practices, but also in working with its suppliers to tackle public sector emissions and making a direct contribution to reaching Net Zero.
Part Four of the Government's Net Zero Strategy: Building Back Greener, looks specifically at the climate considerations underpinning policy across Government. This includes new measures to reduce emissions from Government's £292 billion procurement spending – and to ensure that suppliers have plans for achieving Net Zero on major qualifying public contracts. The National Procurement Policy Statement (NPPS), published in June 2021, sets out clear principles that contracting authorities should be following. Tackling climate change and achieving Net Zero is one of the key considerations established – this should then be woven through individual procurements (for qualifying procurements).
As providers of key national infrastructure, BSA members have a central role to play in delivering a greener economy and transforming the carbon credentials of the public estate. As the case studies below demonstrate, members are already working closely with central government to drive green reforms.
As the UK looks towards a green economic recovery, there is a clear opportunity to build resilience and sustainability into the heart of stimulus packages including infrastructure projects. The BSA is supportive of government's ambition for a green recovery and to be the world leader in Green-Tech to export to the rest of the world. Businesses, large and small, need support in making their business processes more environmentally friendly, in identifying sustainable investment opportunities and in reporting on their Net Zero commitments. As key suppliers to government and UK industries, BSA members stand ready to play their part.
Whether it is through Government schemes, such as the Public Sector Decarbonisation Scheme, offering strategic advice to departments, or in helping to improve the carbon credentials of properties across the public estate, the case studies that follow showcase some of the great work already being carried out by business services organisations in supporting central government as we continue towards achieving Net Zero by 2050.
ISS's customer, a UK government department, set itself the challenge to achieve true Net-Zero across its property portfolio. The department required a strategic review of their current performance and, looking forward, how to achieve Net-Zero carbon emissions.
Read more here
Amey undertook a review of the 58 prisons it maintains on behalf of the Ministry of Justice to identify energy efficiency improvements that could both enhance and improve operations and contribute towards the MOJ's carbon reduction targets.
Read more here
Veolia has secured a place on the new ETL Net Zero Carbon Delivery (NZCD) Framework which is designed to advance progress on the public sector's carbon targets.
Read more here
Working with devolved and local governments and administrations
Supporting green recovery at a devolved and local level will be a driving factor in the UK's race to Net Zero. Many local authorities have set out their own carbon reduction commitments, which in many instances include Net Zero goals preceding the wider 2050 target. In their roles as both suppliers and through offering their expertise, BSA members are central to these efforts to green our regions and devolved nations.
Many of the energy efficiency solutions that business services organisations are able to provide have particular impact at a local level including updating street lighting, greening local transport, and improving waste management and recycling. Investing in green reforms can also be a central driver behind wider levelling up work. This investment can help to transform existing geographic disparities, creating new jobs and industries across the UK's industrial heartlands.
The examples below showcase the many ways in which BSA members are already working closely with devolved and local government partners to invest in the local green economy, improve their own carbon credentials, and drive a greener recovery.
Members' own Net Zero commitments over and above 2050 commitments
The UK was the first major economy to legislate its ambitious Net Zero target and business services organisations are helping the country to take a leading role globally in the fight against climate change.
The Government's recently published Net Zero Strategy's ambitions align to the UK's emissions targets of Net Zero by 2050 and a 78% reduction from 1990 to 2035 (63% relative to 2019). Decarbonising industry is a core part of the UK Government's plan for achieving its 2050 Net Zero target. The Industrial Decarbonization Strategy set out a range of aims including switching away from fossil fuel combustion to low carbon alternatives such as hydrogen and electrification, deploying key technologies such as carbon capture, usage and storage, and supporting industrial sites to maximise their energy and resource efficiency to reduce costs for businesses.
In addition to this, the Covid-19 economic crisis has shone a light on the need for a flexible approach to upskilling and reskilling people in turn reducing the skills gap and supporting the levelling up agenda. The Government's Net Zero Strategy recognises the need for reform of the existing skills system so that training providers, employers and learners are incentivised and equipped to play their part in delivering the transition to Net Zero – including by legislating for skills required for jobs that support action on climate change and other environmental goals to be considered in the development of new local skills improvement plans. An agile and adaptable workforce will be key to approaching the challenges of achieving Net Zero and many BSA members are already upskilling and reskilling their workforce to support our transition towards a greener economy.
As the case studies that follow demonstrate, BSA members are already industry leaders with regards to sustainability and the Net Zero agenda. By continuing to imbed Net Zero considerations into their business activity, such as electrifying their fleets and developing modern methods of construction, members remain at the forefront of our challenge to achieve Net Zero by 2050.
Shaw Trust has undertaken a sector leading carbon baseline and reduction planning exercise, in collaboration with its consultants Delta Simons.
Read more here
The climate emergency is the biggest challenge of our lifetime. That is why Compass Group UK & Ireland is calling for a food revolution to fight for our planet.
Read more here
Supporting SMEs in the supply chain to transition towards Net Zero
All types of organisations have a role to play in recovery and in greening our economic and social infrastructure. Different sizes of businesses have different strengths they can draw on. Larger organisations across all sectors all have an important part to play in supporting their supply chains to transition towards Net Zero, particularly SMEs and micro-organisations.
In many areas of the country, smaller businesses and VCSE organisations have been hit especially hard by the coronavirus pandemic and without support may struggle to transition towards Net Zero on their own. Larger organisations can have the capacity and reach to help here. They can help support and rebuild local SME capacity and introduce measures to help further green their operations, by making full use of the external expertise and supply chain management they can bring to the table, while smaller organisations bring their strengths and the two learn from each other. Both now and in the longer term there is a need for genuine partnership working.
Working with other private sector / VCSE organisations
As drivers of innovation and key services providers supporting businesses throughout the UK economy, BSA member organisations are helping their business and industry clients to green their own operations as part of the drive towards a wider Net Zero economy.
Members are key to industry's efforts to upgrade, extend and modernise the UK's physical, social and digital infrastructure. Supporting large-scale projects and investing in green technologies will be key to Building Back Better through innovation, meeting the country's future infrastructure needs, meeting our Net Zero targets, providing stimulus to industry supply chains across the country, and rebalancing the economy.
Working in partnership with business services organisations and investing in energy efficiency across the commercial property estate, scaled up across the UK, will result in a huge reduction in carbon emissions, enabling business to drive a green agenda and support the Race to Zero.
The examples below clearly demonstrate how BSA members are already supporting private sector partners in their transition through their expertise and innovation.
Balfour Beatty is contracted to deliver three major packages of works for EDF at Hinkley Point C and has worked closely with their partners to drive a significant reduction in the levels of embedded carbon.
Read more here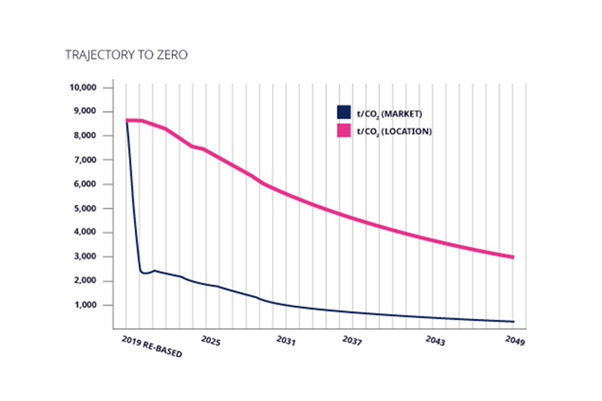 TSB's Net-Zero programme has been accelerated thanks to its partnership with ISS, who established the baseline for  Scope 1 and 2 GHG emissions and defined their Net-Zero strategy to 2030 whilst delivering savings for the customer.
Read more here
City FM is helping a leading supermarket chain cut their energy bills. City saves the customer around £7m per year in energy costs, has reduced energy use by 34.5% since 2010 and achieved a 67% reduction in carbon emissions.
Read more here
Revere is a partnership between Palladium and the UK National Parks, focused on catalysing private finance to restore the UK's 15 National Parks at the scale and pace needed to tackle the climate emergency and biodiversity crisis.
Read more here.
Amey Consulting designed the UK's first carbon neutral road improvement project – an £8m Highways England carriageway reconstruction in Cumbria.
Read more here
Bouygues E&S has partnered with Gaia in order to reduce the CO2 footprint across its operations where they deploy temporary compounds.
Read more here.